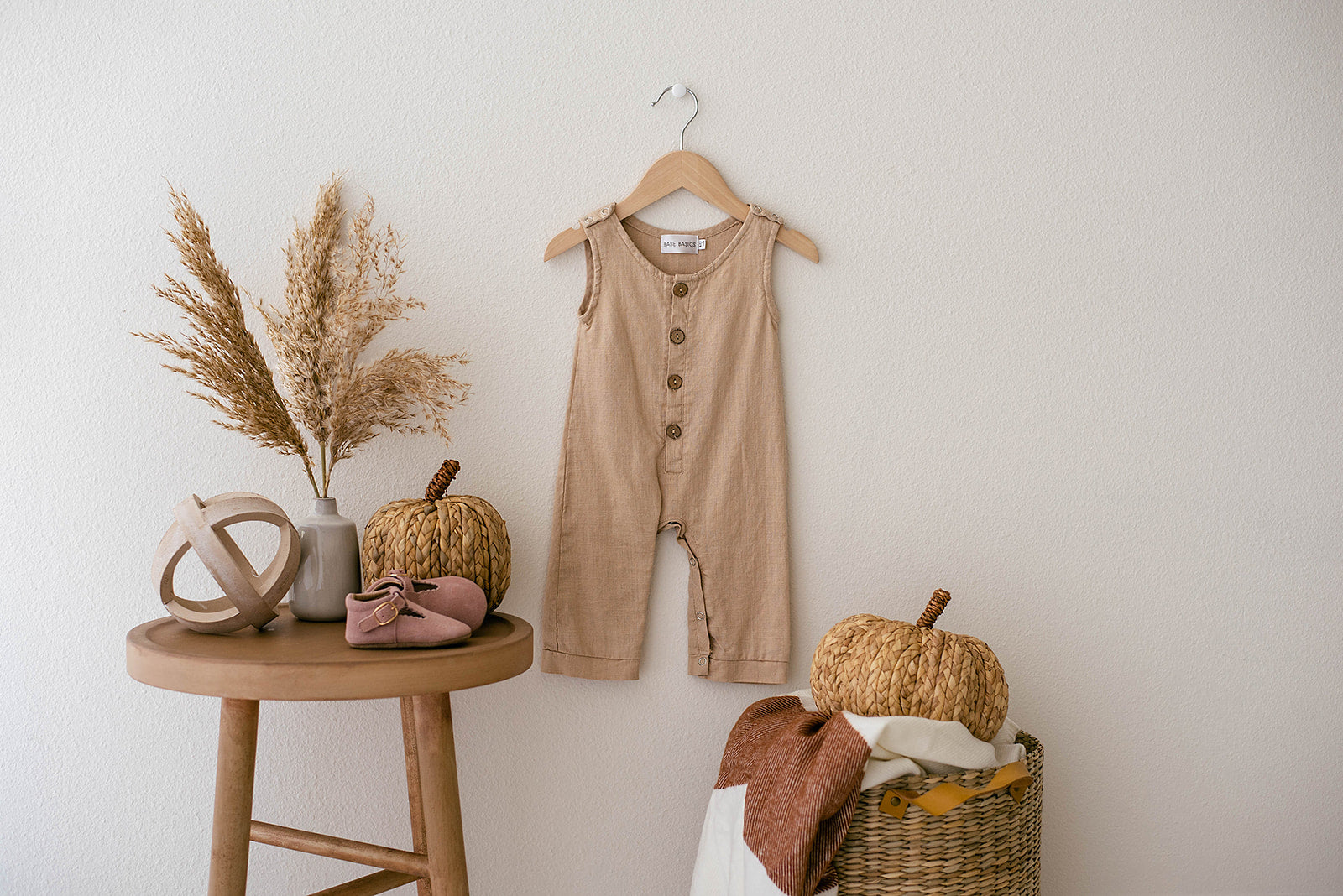 Trendy Baby and Toddler Clothes - What's Trending in 2021
If you've ever looked at your little one's closet and thought "Yep, my baby dresses better than I do?" you're in the right place. For some parents, dressing their baby is purely about function - and function is definitely important when you're facing spills, spit-up, crawling, and other everyday messes. But for others (*raises hand*), picking out cute, trendy outfits for your baby can also be a fun creative outlet and a way to express you and your little one's personality! Here are the baby and toddler clothing trends that are filling up our Pinterest boards, screenshot folder, and Instagram feeds in 2021.
2021 Baby Clothing Trends
Neutral and Earth Tone Shades
Mirroring trends in adult clothing, neutral shades like gray, beige, cream, and black are still dominating baby clothing trends in 2021. But these classic hues are also joined by "near-neutrals" like sage and blush, plus muted earthy shades like olive, muted blue, burgundy, mustard, dusty rose, and rust. These tones are great for mixing and matching, so they're a safe bet for accessories and everyday baby clothing.
Gender Neutral Clothing
In the time of elaborate gender reveal parties, it might come as a surprise, but more and more parents are opting for gender neutral baby clothes for a variety of reasons. Whether the gender is a surprise, you want to reuse clothing for future children who could be of either sex, or you just prefer a more subtle, minimal wardrobe for your little one, there are tons of beautiful gender neutral baby clothes to choose from these days that are anything but basic.
Minimal & Textured
While you can still find plenty of graphic and printed baby clothes, 2021 baby clothing trends are all about understated, minimal designs and more classic silhouettes. Think simple one-piece rompers/jumpsuits, leggings or stretchy pants with chunky sweaters, or simple dresses with bloomers. Despite these more minimal styles, this year's trends are anything but boring. Traditionally, most baby basics were always made from simple cotton, knit, or polyester blends for comfort. In 2021, we're seeing more unique, boho textures like chunky knits, linen, and ribbed or waffle cotton that bring plenty of unique style to otherwise simple outfits.
 

Earth-Conscious
Parents are also becoming more conscious of how their little ones' clothing impacts the planet, and even their children's health. Kids outgrow clothing so quickly that it's almost impossible to avoid replacing them regularly. However, more families are opting for sustainably made clothing, high-quality items that can be passed on to friends or family, and even opting to thrift shop rather than choosing "fast fashion" pieces for their little ones. Similarly, parents are becoming more educated on the chemicals and dyes that are used to create baby and toddler clothes and looking for less toxic options. This can look like opting for natural fibers such as linen, cotton, and wool for clothing and choosing clothing made with non-toxic dyes.