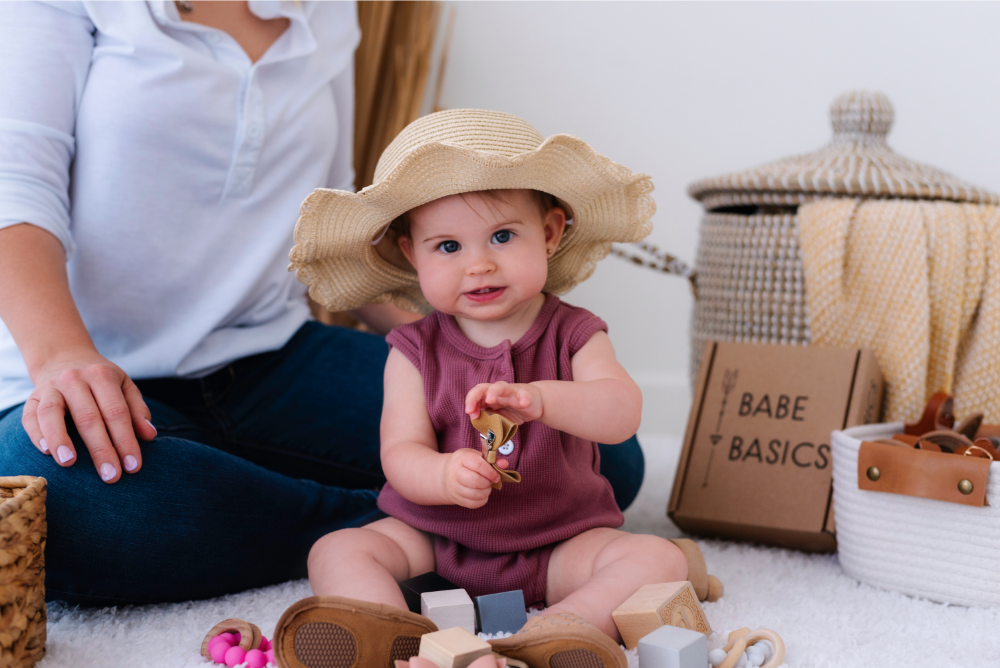 How to Protect Babies Under 6 Months from Sun
As parents and caregivers, we do everything in our power to keep our little ones safe, but it's easy to forget to take precautions against one of the most common risks - the sun! During this extra sunny time of year when many of us are hitting the pool, the beach, the park, and local festivities, it's important to take extra precautions to keep our babes' delicate skin safe from harmful rays that can cause painful sunburns and put them at risk for skin cancer later in life. In fact, babies can get severe sunburns before you even notice their skin changing color. Here are some sun safety tips to help protect babies under 6 months from sun.
Tips for Protecting Your Baby From the Sun
1. Shielding is the first line of defense
Because baby's skin is so sensitive and vulnerable in the first 6 months of life, they're more vulnerable to the potential side effects of sunscreen. That means shielding them from the sun is key until they're old enough for SPF. Stick to shady spots with tree overhangs or umbrellas, use the sun shield on the stroller, and if you're staying out in a sunny spot, pick up a baby beach tent so they can join the fun safely. Even the car can get quite sunny for baby's sensitive skin, so consider adding a car shade on the side where their car seat is. 
And remember - just because it's overcast doesn't mean your baby can't get burned. UVA rays can easily penetrate clouds and water, so be aware of sun safety no matter the weather.
2. Dress for the weather
Along with using external shielding, your little one's clothing can also be a smart way to protect them from the sun. But what clothing is best for protecting babies from sun? In hot weather, it's tempting to keep your babe in minimal clothing, but be sure to choose breathable, lightweight clothing that fully covers arms and legs. And remember - not all clothes are made equal when it comes to sun protection! (A white cotton tee is only rated about 5 UPF, meaning it only blocks about a fifth of the sun's harmful rays!)  Dark colors with a tight weave are a good choice, but if your babe is going to be in direct sun without shade, it's safer to opt for UPF rated clothing. 
Top things off with a wide brim sun hat for extra shade on the face and shoulders, like these adjustable size baby sun hats.
3. Don't forget the sunglasses
Yeah, baby sunglasses are basically the cutest thing ever - but they're also key to keeping your kiddo's eyes safe from UV rays, especially while the melanin in their eyes is still developing. You can find lots of baby sunglasses with an elastic strap to keep them secure on baby's head (though let's be honest, you'll still be putting them back on a few times a day).
4. After 6 months, use SPF 
While it's still important to use shade and clothing as a first line of defense no matter your babe's age, after 6 months, you can also use broad spectrum sunscreen. Do you really need a special baby sunscreen? Not necessarily - just make sure you're choosing a sunscreen with at least SPF 30 and opt for a formula without the added fragrances and dyes. A few dermatologist-approved options are Neutrogena Free and Clear Baby or Babyganics Mineral Based Baby Sunscreen. Be sure to choose water-resistant if you'll be in the water or if your little one is sweating.
5. Don't forget to reapply
To give the sunscreen time to work properly, be sure to apply 30 minutes before heading outside. Most importantly, don't forget to reapply every 2 hours or more frequently if you're in the water. Spray-on sunscreen can be great if your busy toddler doesn't like to sit still for sunscreen application, but make sure you're applying it liberally and using your hands to apply to the face, ears, and other easy-to-miss spots.