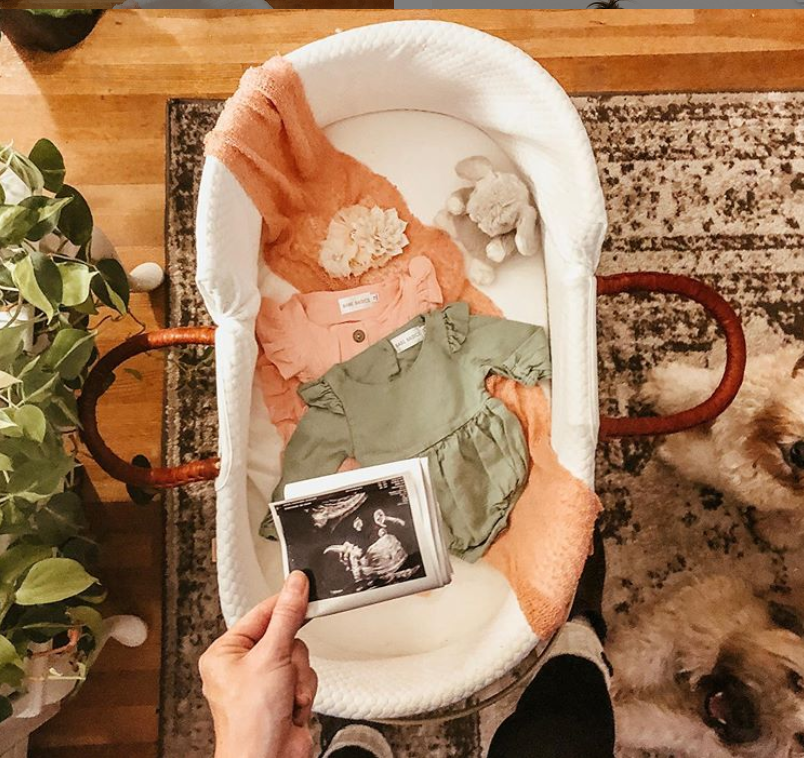 Fun & Meaningful Ways to Document Your Pregnancy
Whether your pregnancy feels like the magical "you're glowing" kind of pregnancy, the forever-exhausted-let's-get-this-baby-out variety, or somewhere in between, those 9 months are undoubtedly a special time in life. For those handful of sweet months, you're the only home your baby has ever known. It's a time of recognizing what life is like now and anticipation of what's next and who this little person will be. And while growing a human is hard work and requires so much of us, it's also important to commemorate this short and unique moment in time. Here are some fun and meaningful ways to document your pregnancy to celebrate this special time and navigate the transition into welcoming your new little one.
Bump Progress Photos
The star of the show is, of course, The Bump, so taking a weekly or monthly photo during your pregnancy is a beautiful way to document the progression. Make it extra special by taking it at the same angle, in the same location, or in the same outfit for every photo to really see the changes week to week. At the end, you can even use an online GIF maker to create a time lapse and add a photo of you with your newborn in the spot where your bump once was. 
If you're not the social media type, you can always turn the photos into a book using Shutterfly or a similar service so that it's easy to look back.
Use a Chalkboard or Letter Board - or a Photo App
If you'd like to add more details to your photos, try holding or standing next to a chalkboard or letter board. Here, you can add details of baby's progress, how you're feeling, and new milestones like feeling the first kicks or going on a special trip. Or if that's too fussy for your style, get the same results with a photo editing app that allows you to add text overlays to your photos.
Start a Pregnancy Journal
Between the all hormones and the impending life changes, pregnancy can be a seriously emotional time. Journaling is a great way to get things out and make sense of what you're feeling and experiencing while also having a keepsake to look back on after your baby is born. If you're already a journal-er, you might be okay with just starting a fresh, blank notebook but if you want some prompts, space to track changes, and add photos, you can check out some of these fun pregnancy journals.
And don't feel like you have to limit it to just words! Add in photos of your bump, holidays, everyday moments, or trips and activities along the way. They're all part of the story.
Write Letters to Baby
If you just can't get into the whole journal idea, sometimes it's easier to write directly to someone - your baby. Whether you eventually give your child the letters to read or just keep them as a personal keepsake, this is a beautiful way to write down your hopes, expectations, and memories during your pregnancy. A few ideas for what to write about: what you wish for them, what's going on in the world right now, things about you and your partner, what you hope to pass down to them, tidbits about family members and friends. 
Use an App
There are lots of pregnancy tracking apps out there to tell you what new milestones your baby is hitting and what fruit they're the size of this week, but there are also apps for documenting your own progress on the way. For example, Tinybeans allows you to add photos, notes, stats, and more so that you can track with as little fuss as possible. 
Get Professional Maternity Photos
For some women, pregnancy makes them feel beautiful and powerful and some of us just feel, well, giant. But no matter how you feel in the moment, you will look back at maternity photos with a flood of emotions. If professional photos are not in your budget, consider asking a few friends or family members to pitch in on it in lieu of a shower gift. 
P.S. Check out these tips for taking pregnancy announcement photos and baby monthly milestone photos! And if you're looking for photo props or outfits for your new little, make sure you check out our shop for timeless, neutral pieces!