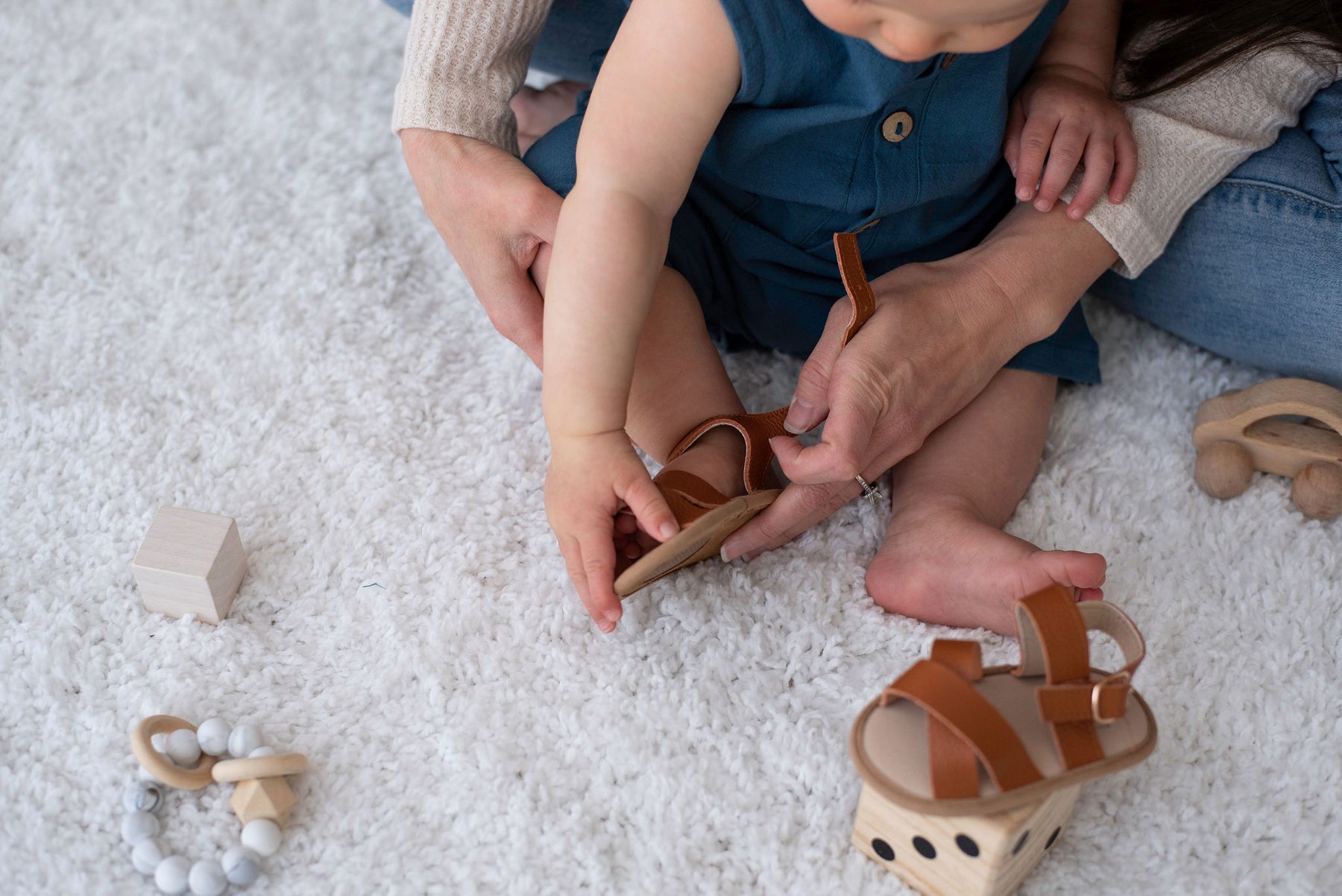 Can Babies Wear Sandals?
Temperatures are warming up. You're looking forward to days at the pool, beach, park, and splash pad with your little babe. You've got the tiny sun hat, the adorable swimsuit, the SPF - but wait....what about protecting their feet? Can babies wear sandals? Should they be barefoot? Stick with socks even in the summer? 
Can Babies Wear Sandals?
The short answer is yes, babies can wear sandals - but it's best to balance that with plenty of barefoot time. The longer answer comes down to age, proper foot development, type of shoe, and how long they'll be wearing the sandals.
Experts agree that babies do not need shoes at all until they're walking. Prior to walking, it's best to have your babe in socks, booties, or barefoot, though there's no harm in occasionally adding shoes temporarily to accessorize an outfit for a special occasion or photo.
Even when your little one starts walking, new walkers should spend as much time barefoot as possible to develop strength and arch in the feet. But sometimes, like when your babe insists on walking rather than riding in the stroller while out and about, shoes are a necessity to protect from rocks, sticks, that mysterious spill in the parking lot, or whatever else they're walking over. And in summer, a sandal is a great option to keep feet protected but still allowing them to breathe.
What Type of Sandals are Best for Babies?
For ages 0-24 months or so, flexibility is key. You want sandals that allow for as much natural movement as possible, so look for flexible and soft materials that are still protective enough for little walkers. Split sole styles - where there's a protective tread on the ball of the foot and heel, but flexible material between - are a good way to balance functionality with foot safety. 
Skip the flip flops for now - not only will they fall off, but they also can rub between the toes and don't offer much in the way of support or flexibility. Instead, look for styles with a strap around the back of the foot for security (no one likes lost shoes!) and so that little toes don't have to work to grip the sandal.
Comfort is Key
Be sure to measure your babe's feet and compare to the sizing chart when ordering online, and keep an eye out for any signs of discomfort when they're wearing their sandals. It's smart to give an extra quarter- or half-inch of "wiggle room," but don't go too big if they're newly walking or the shoes may become a tripping hazard. Features like adjustable velcro straps, buckles, or elastic can help you get the perfect fit for your babe's feet and ankles so there's no rubbing. 
Have more questions about when babies should start wearing shoes? Check out this blog post!