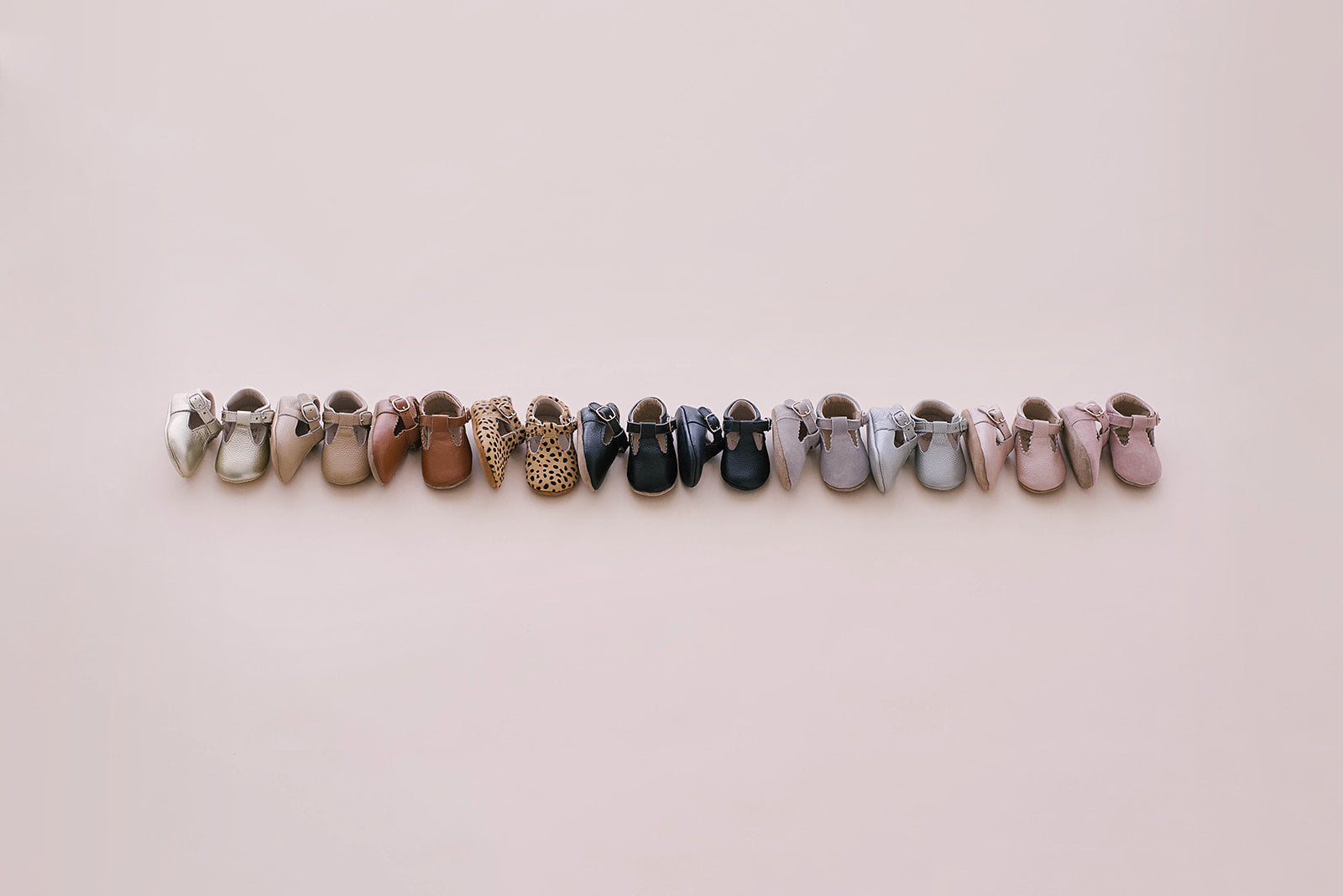 When Should Babies Start Wearing Shoes?
Slippers, soft-sole moccasins, booties, sandals, mary janes -- there's no shortage of options when it comes to baby shoes in sizes ranging from newborn to toddler. While baby shoes are some of the most irresistibly cute accessories, you also want to consider their developmental stage and safety. Although shoes were invented to protect the feet from injury when walking, over the years they've become as much a style choice as they are a practical choice -- especially when it comes to babies. So when should babies start wearing shoes?
What to Know About Your Baby's Feet
Like most body parts at birth, your baby's feet are very pliable. Bones of the feet are not well-formed until around 8 years of age, so little feet are very flexible and made of mostly cartilage until around 9 months. Babies are also flat-footed, with the arch of the foot developing in the first few years of life.
Movement of the feet is key to proper muscle and bone development in the feet, which also prepares the foot for walking. Kicking, bouncing, wiggling, and crawling all help encourage proper foot development. Therefore, you want to ensure baby has plenty of space for the feet to move freely.
When to Get Your Baby's First Shoes
As the song goes, these boots (or should we say, booties) are made for walking. Your baby doesn't truly need their first pair of shoes until they are walking outdoors. Once baby is on their feet, they'll need protection from the elements and potential injury when walking and playing outdoors.
However, until they're able to walk confidently, it's best to limit time in shoes and allow baby to walk barefoot as much as possible to build coordination and arch strength. When you're at home, ditch the shoes to help your babe get their footing (literally). 
Can Newborns or Non-Walking Babies Wear Shoes?
If you've taken your little one out of the house barefoot, you may have gotten comments from well-meaning people about how babies shouldn't be barefoot. But newer research shoes barefoot really is best for babies in most cases!
Before baby is walking well, keep shoes to special occasions. It's fun and harmless to use them as a way to accessorize an outfit for a special outing, photos, holidays, or a fun outfit but for the most part, your babe should be barefoot or in socks/booties if needed for warmth. If you're outdoors in extreme weather and want extra foot protection for your non-walking babe, look for soft, flexible shoes with plenty of wiggle room. 
What Shoes Are Best for New Walkers?
As mentioned, barefoot is best for new walkers, but what about times when shoes are needed? For everyday wear, look for shoes with a bit of flexibility that are as close to barefoot as possible while still providing protection, such as leather moccasins or split-sole shoes. A good rule of thumb: you should always be able to feel your babe's toes through the top of the shoe. 
Be sure there's enough grip on the bottom that your little one won't slip on smooth floors. Depending on where you live and what activities you're doing, you may also need a pair of thicker, more structured shoes or boots to protect little feet. Just balance this time in shoes with plenty of barefoot time at home.