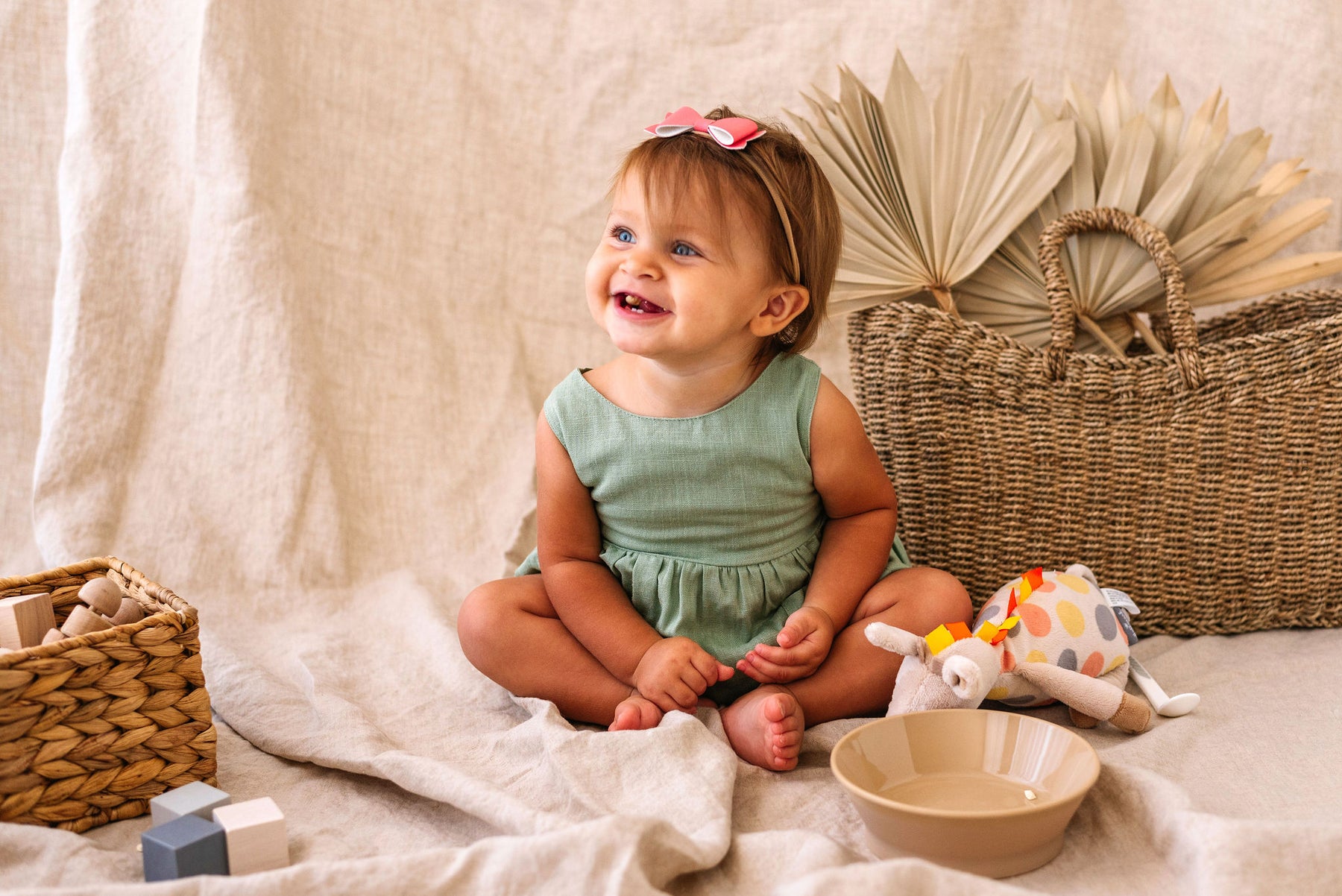 What Should Baby Wear For Photos?
Family photos are a beautiful way to preserve memories, celebrate a specific season in your life together, and look back on those joyful moments for years to come. But between finding a photographer, choosing the perfect spot, trying to schedule around naps and feedings, and of course, picking out outfits for everyone, photos can be, well, a lot! We're here to take one thing off your list: answering the all-important question "What should my baby wear for photos?"
Tips for picking a baby photoshoot outfit
1. Coordinate, but don't worry about matching. 
While matching outfits for little ones can be cute, don't worry about making sure the whole family is fully matching. Instead, go for coordinating outfits. Decide on a general color palette based on the clothes you have on hand and the season. For example, for fall photos, you might choose olive green, beige, rust, and mustard yellow. There are lots of great examples of palettes on Pinterest! If you already know what you would like to wear, work the rest of the outfits around it.
2. When in doubt, choose neutrals.
If you just can't figure out what outfit your baby should wear for photos, go for a neutral or near-neutral, like cream, tan, sage, blush, or navy. These shades can coordinate with almost anything the rest of the family wears and they look cute without being a distraction or clashing. 
3. Comfort and fit are key.
The last thing you want is your little one feeling uncomfortable during the photoshoot. Opt for something that you won't need to fuss with the whole time. For example, a bow headband looks adorable, but if you know your babe will be pulling it off the whole time, maybe it's worth choosing a different accessory. 
4. One pieces for the win.
We love baby rompers for photos for so many reasons. They're an all-in-one outfit so they save you the work of matching multiple items, they're easy on and off, and most importantly, they're adorable on every baby! Add a couple accessories if you want and you're ready to go.
5. Bring a backup.
A blowout or spit-up situation can derail even the most carefully chosen outfit plans. You'll never regret picking out a second outfit for your little one and bringing it along to the photoshoot - just in case!
Baby Photo Outfit Ideas
Here are a few simple, stylish, and timeless photo outfits for your baby that we love.
Basic Linen Romper
Available in multiple colors, these linen rompers are classic yet stylish, gender-neutral, and perfect for both babies and toddlers. 
Crop Linen Romper
All the benefits of the basic linen romper in a shorter length that's great for warmer days or a more boho look.
Baby Lounge Set
For a more casual photoshoot, you can't beat a cute matching set.
Flutter Sleeve Romper
Neutrals with pretty details are always a win, and this flutter sleeve romper is proof!
Halter Romper
For indoor or warm weather shoots, we love the multiple color options and bow detail of this halter romper.