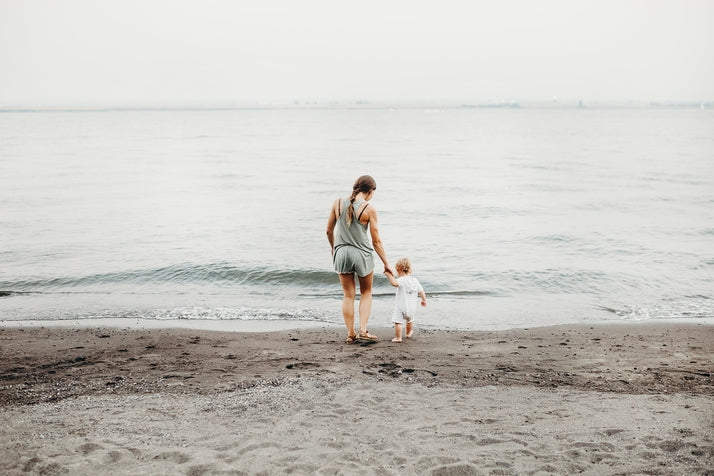 How to Make the Most of the Last Weeks of Summer
August. Whether or not you have school-age kids, just the word "August" conjures up visions of back-to-school shopping, fresh notebooks, and that first crisp fall day around the corner. Hold up there, mama - summer doesn't officially end until September 23! Before you start lighting the pumpkin candles and declaring summer over, here are some ways to avoid the August blues and make the most of the last weeks of summer with your family!
Enjoy Lazy Days with Zero Guilt
Summer is a time to relax, but for parents it can often turn into pressure to plan a perfect getaway, go to every local attraction, and shuttle the family to every possible summer activity to take advantage of the season. As things wind down in August, free yourself from those "should-dos," lean into the lazy days and let your little ones use some imagination to fill the time. Heck, have a designated do-nothing day where all productivity is against the rules!
Make Your Favorite Summer Dishes Together
The end of August is prime time for incredible summer produce, so take advantage by making those meals that scream summer! You can even let the kids help pick out fresh fruit and veggies at the farmer's market or a local produce stand. Maybe it's a fruit crisp, homemade lemonade, perfectly sweet corn on the cob (or cut off the cob because, well, kids), s'mores by the fire, burgers on the grill, or just enjoying a juicy watermelon as a snack on the porch together.
Get in One Last Swim
Whether it's a drive to the closest lake, an ocean dip, a splash pad, a kiddie pool in the yard, or even just a run through the sprinkler, nothing screams summer freedom like being in the water. And when we say in the water, we mean it! Don't just watch from the sidelines - jump right in with your littles! As Jamie Varon put it so well, "Go to the lake. Or the beach. Be the first to jump in the water. Tell everyone else, 'Come in! It's nice in here!' Be the arbiter and instigator of joy. Make memories so precise and wonderful that, 20 years from now, you'll say with longing and light in your eyes, 'Remember that beautiful summer of 2019 when we said yes to life?'"
Enjoy Phone-less Time
It might sound crazy, but try leaving your phone at home on your next walk or trip to the park, or just turn it off and put it away after dinner. You'll only have one summer of your kids at this age, so take some time to just be present, soak it in, and really notice all the little things they do and say.
Go Out for Ice Cream Before Dinner
Kids always get a kick out of anything that feels like it's against the rules, and there's nothing as quintessentially summer as an ice cream cone on a hot day.
Take a Few Pictures - and Be Sure You're In One
If you feel like summer flew by without anything to document it, take out your phone and take a few candids of these last few weeks of summer. Even if you're doing nothing at all, you'll be glad to have memories of those special moments (psst - we have some great photo tips here!). And make sure to get in front of the camera with the kiddos, too! Ask your spouse or a friend to take the picture, or rig up the timer to jump in yourself. Even better, give a couple disposable cameras to your kids and see what treasures they took when you get them developed come September. 
Enjoy your last month of summer!