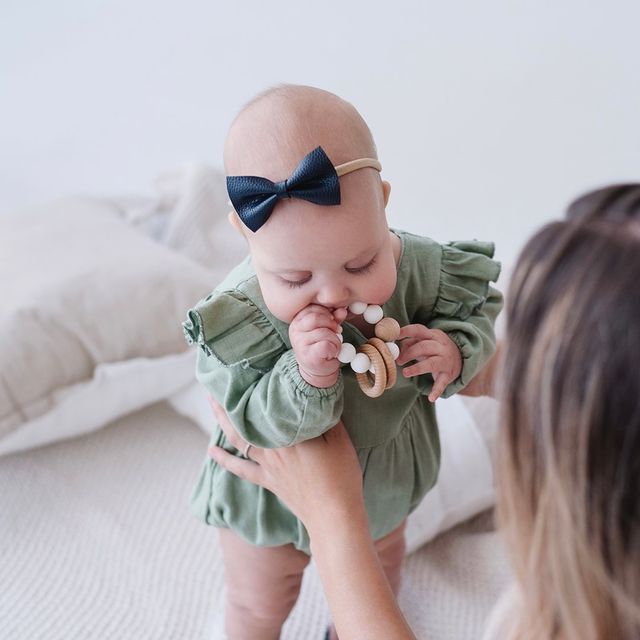 How to Clean Baby Teethers
When your little one is dealing with teething pain, needs a toy to keep them busy during tummy time, or is just at the put-everything-in-their-mouth phase, there's nothing better than a teething toy. But like pacifiers, teethers tend to find their way onto the floor, into the hands of siblings (or mouths of pets), and into the cracks between the car seats.
While we're not above a "five second rule" from time to time, the Mayo Clinic recommends sterilizing any pacifiers or toys that are going into your baby's mouth while they're 6 months or younger as their immune systems aren't yet at full strength. After 6 months, a wash with warm soapy water should suffice - and most babies begin teething around 4-6 months when sterilization isn't as necessary. 
Tips for Cleaning Baby Teethers
Cleaning a Silicone Teether
For teethers made strictly from silicone, just wash with warm soapy water or toss right into the dishwasher. Silicone is antimicrobial, so teethers made from it tend to be low maintenance!
Cleaning a Wood Teether
Teethers made from beechwood are naturally splinter free and have antimicrobial and antibacterial properties, which helps combat any germs making their way to your little one's mouth. When it's time to clean, simply wash with soap and warm water, then allow to dry thoroughly.
Cleaning Teethers with Strings Inside
For teething toys with string, such as wood or silicone beads on a pacifier clip, it's important not to sterilize by boiling or steaming. Instead, wash with warm, soapy water and rinse thoroughly. This protects the integrity of the teether while also washing away germs. 
Deep Cleaning Teethers
Since they're constantly in your babe's mouth, it's a good idea to deep clean teethers from time to time. Start by soaking teethers in hot water mixed with mild dish detergent for a few minutes, then soak in a mixture of warm water and white vinegar for 15 minutes. Rinse with cool water before giving back to your babe.