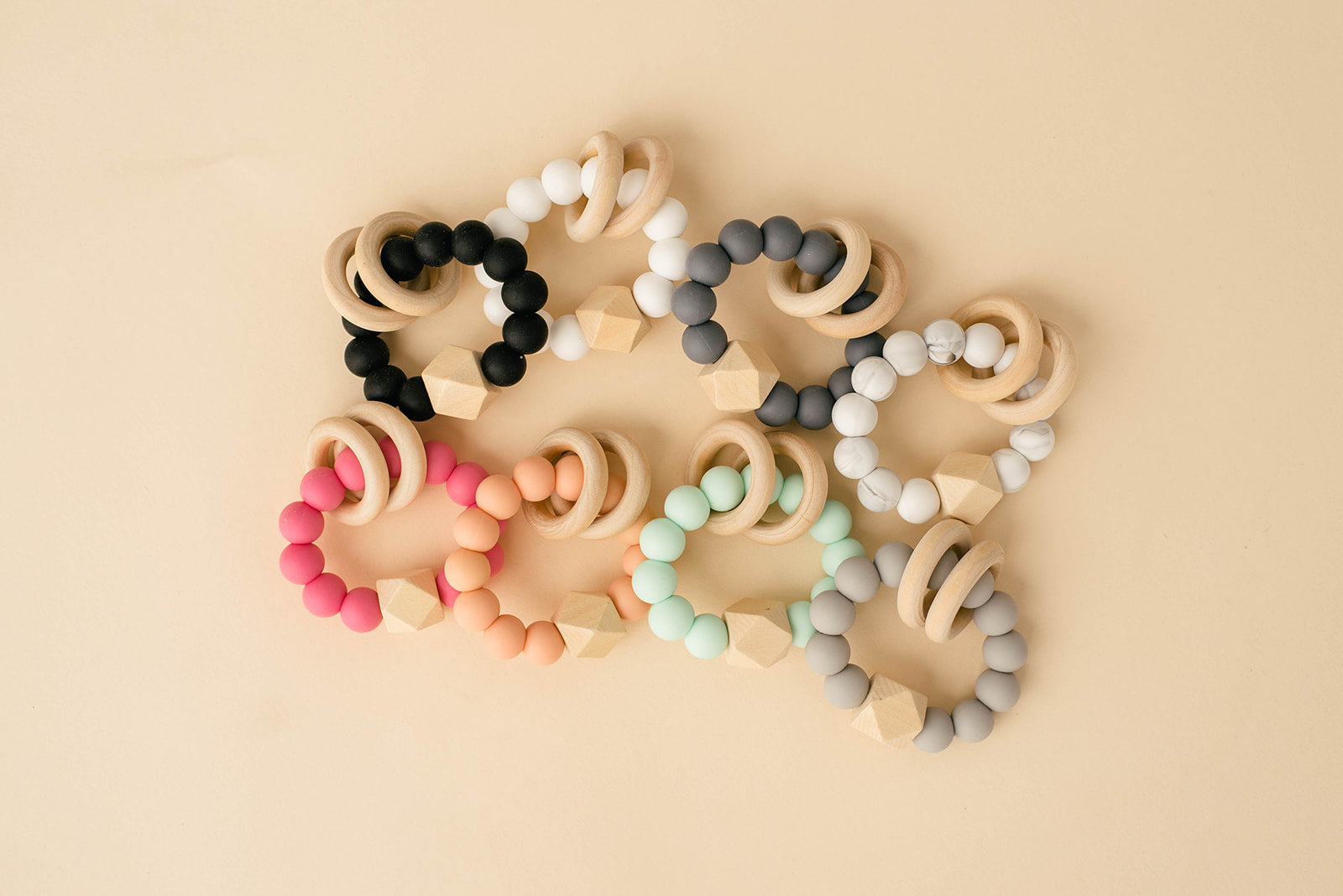 How to Choose a Teether for Your Baby
When your babe is teething, you want to do anything possible to help soothe the pain. The pressure of biting down on a teether can help relieve some of your little one's teething pain, and teething or not, babies learn and develop many early skills by putting toys (or blankets or your jewelry or your hair or anything they can grab) in their mouths. With so many teether options on the market, you might be wondering how to choose a safe and well-suited option for your babe. Here are a few considerations.
Materials
The biggest factor to consider when choosing a teether is safety. Since this is an item that will be in your child's mouth, you want to be absolutely sure it doesn't include any toxic materials. Never consider a teether with BPA, PVC, pthalates, or toxic paints and consider choosing one that's hypoallergenic. Even if they've been thoroughly sanitized, it's best not to use old teethers if you can't confirm they're free of these toxins since regulations have changed over the years. Whether your choose BPA-free rubber, BPA-free plastic, BPA-free silicone, or natural wood, just make sure you're choosing only non-toxic materials.
Our teethers use only BPA-free food-grade silicone and natural untreated beech wood that is FDA approved, PVC-free, Phthalate-free, Latex-free, lead-free, petroleum-free and non-toxic so you can rest assured your baby is safe.
Durability
Teethers need to stand up to chewing, sucking, pulling, and play without becoming a choking or splinter hazard, so it's important to check the quality of the teether and ensure they're double-knotted if they're beaded. Don't use standard toys as teethers as they aren't always made to stand up to chewing and can become hazardous.
Always supervise your babe with a teether and regularly inspect teethers to make sure there's no damage.
Texture & Grip
Teethers come in many textures and shapes to keep your babe entertained and mentally stimulated. While added texture can be soothing and fun for baby, make sure the overall surface teether is smooth and doesn't have any edges that could dig into the gums. It's also a bonus if it can be easily grabbed and held by your little one so you're not picking it up off the floor *quite* as often. 
Added Features
Some teethers come with added features that can be helpful for different needs or preferences. Integrated pacifier clips can keep both the teether and pacifier from getting dropped or lost. Some teethers can even be placed in the refrigerator or freezer to help soothe inflammation. It can be helpful to have a few options on hand as your babe may prefer different teethers at different times. 
Style
Of course, once you've checked off the safety and use boxes, it all comes down to choosing a style you love! Teethers today come in trendy colors and shapes, so you're not stuck with the basic plastic primary colors. Grab colors that match your babe's wardrobe or nursery, choose shapes that suit their personality, or look for neutrals to coordinate with almost any outfit.