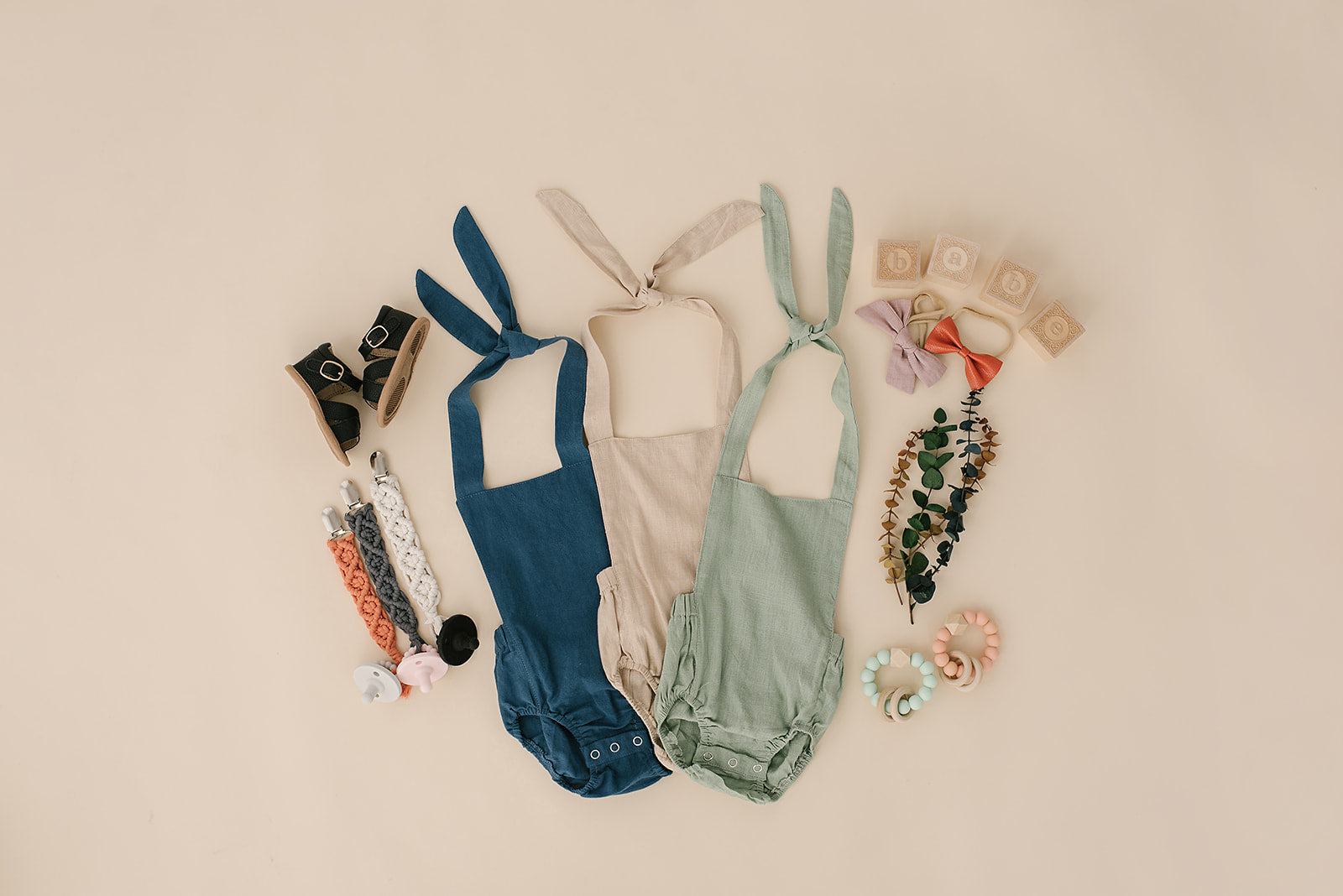 How to Build a Capsule Wardrobe for Your Baby
Of all the things you stock up on before baby arrives, tiny clothes are definitely the most fun. But as time goes on, most of us end up reaching for the same 10 outfits to dress our little ones every day. As they pass the 6-month mark and seasons change and they've often outgrown most of the baby shower gifts, it can feel overwhelming to think about buying an entire new wardrobe that you know they'll outgrow in a few more months. That's where the magic of the baby capsule wardrobe comes in. 
How Does a Capsule Wardrobe Work?
A capsule wardrobe is meant to simplify your closet by paring back to a smaller number of high-quality clothing pieces that can be mixed and matched easily. This makes it easier to get dressed (fewer decisions to make), keeps clutter and laundry to a minimum, helps keep your clothing budget down, and is a more sustainable option than buying dozens of "fast fashion" items that won't last or will go out of style quickly. 

For babies and toddlers, a capsule wardrobe requires a bit more thought because they're constantly outgrowing clothing and sometimes need a couple outfit changes in a day (hello blowouts and spit up). However, it's worth the upfront investment to streamline your days - and save your budget - in the long run. 
How to Start a Baby Capsule Wardrobe
It's best to get started with a capsule wardrobe either right away before baby arrives or as they're about to outgrow the majority of their clothes in order to avoid wasting what's on hand. As you consider how much clothing your baby needs, think about getting enough clothing to get by on only one laundry day per week. When considering sizes, get what's needed for the next 1-2 seasons (i.e. a spring/summer wardrobe or a fall/winter wardrobe). 
Choose a Style
If you find yourself always gravitating toward certain colors, patterns, or styles when you get your little one dress, then start there. Stick to a specific color palette and style so that everything mixes and matches. Luckily there is leeway when it comes to matching for baby clothes, so don't stress too much about making the perfect choice.
Opt for Quality
As tempting as those tiny clothes are as you stroll the clearance aisles of the store, opt for high-quality pieces in fabrics that will last, wash well, and can be passed down if you have more children. Not only is it a good investment, but also more sustainable than buying clothes that wear out so quickly that you're tossing them out after a handful of uses.
Look for Adjustable & Stretchy
Clothing with adjustable closings like ties or stretch can help you squeeze a bit more time out of each item as your babe grows. You can also look for "grow with me" items that are specifically meant to be used at multiple sizes.
It's All About Layers
Rather than purchasing separate clothes for every season, choose items that can be layered as you transition between seasons. For example, a linen romper in summer can be layered with a jacket or sweater for fall.
Bibs Are Your Best Friend
The cleaner you can keep each outfit, the less you'll need, so be sure to stock up on easily cleaned bibs. 
Check Out Pinterest for Sample Wardrobes
Your babe's needs will vary a lot based on their age, activity level, the climate in your area, and the season. Rather than try to give you a comprehensive list, check out Pinterest to see example wardrobes for different age groups and styles.
Looking for high quality, neutral clothes to start your babe's capsule wardrobe? Shop Babe Basics